---
---
Ninety-two years ago today, there was a gunshot at the head of Nanchang City.
The birth of a new type of people's army led by the Communist Party of China
A spark of fire will start a prairie fire
They use firm ideals and beliefs.
Conquering Snow Mountain and Grassland and Continuing Chinese Revolution
They are equipped with crude weaponry.
Resist foreign aggression and save the nation from peril
They are not afraid of disparity of power.
Stride abroad and fight against the strongest enemy
Winning a peaceful development environment for the New Republic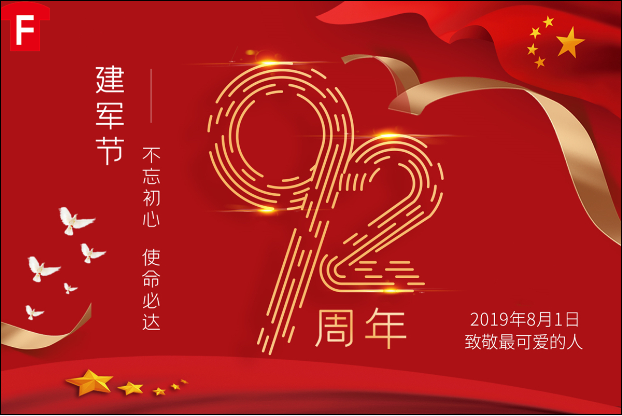 In our country, there are such a group of people: they always hold their heads high and face the world with the most spiritual outlook; they sacrifice themselves as human beings, where there is a need for them; they are not afraid of life and death, always put the interests of the people in the first place. They are the backbone of the Chinese nation. They are fearless of the severe cold and heat. They pledge to defend the sovereignty of the country and the territory of the motherland. They are the most handsome heavenly League of the country. They are the most lovely people.
They may not be tall, but they can also be tall, they have a clanking iron bone, blood does not shed tears, in the face of the people, they are gentle, in the face of gangsters and villains, they are fierce. They are the patron saints in the hearts of citizens and the road tigers in the hearts of bad people.
They always pay for it silently, exhaust all their strength, even use their own lives. Flood disasters, they build human walls, always rush to the first front of flood resistance; earthquake disasters, they are not afraid of aftershocks, trying to save more people; overseas incidents endangering people's safety, they are always the first time to rescue, so that our Chinese compatriots can get away as soon as possible. Danger.
There's a saying like this: "There are no good years, but someone is going to carry the load for you." Yes, it is true that we do not live in a peaceful era, but in a peaceful country. Look at the news about the conflicts happening in different parts of the world, and then look at our country. The sense of security suddenly bursts, and this can not be separated from the PLA's maize efforts. Therefore, on the occasion of the August 1st Army Day, all the staff of Tianfa Company would like to join the masses of the people in saluting the Chinese People's Liberation Army!